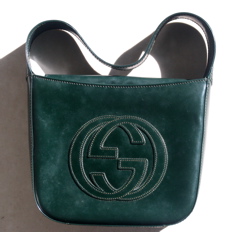 GUCCI dark olive green logo handbag
In good condition. Interior leather lining of bag has peeled and will need to be peeled completely. Exterior leather can be polished with leather oil to bring back its "shine". Measures 7"L x 6"H x 2.5"W. There is no dustbag included. PRICE: Php 5,000.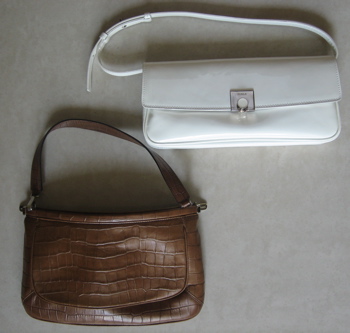 TOP RIGHT: FURLA White Rectangular Shoulder Bag-- SOLD

BOTTOM LEFT: LANCEL Brown Crocodile Embossed Leather Curved Pochette. Condition: Bag is still in excellent condition, slight tarnish only on the bag hardware. Measures 10.5"L x 6"H. No more dustbag. PRICE: Php 5,000.
1. (Left) FERRAGAMO black grosgrain ribbon- wrapped mini drawstring backpack measures 9.5H x 7.5L x 5.5W. Excellent condition, gold hardware chain link straps are not yet tarnished. PRICE: Php 5,000.

2. (Right) FERRAGAMO purple grosgrain ribbon oval bag with leather ribbon trim in very good condition, measures 9.5L x 7H x 3.5W and has minor dirtmarks at bottom of bag. PRICE: Php 3,500.
1. TOP BAG: SOLD

2.(L) BELTRAMI (made in Italy) leather flap shoulder bag with gold chain strap can also be carried as a clutch for evening. Leather has scratches. PRICE: Php 1,200.

3. BOTTOM RIGHT BAG: SOLD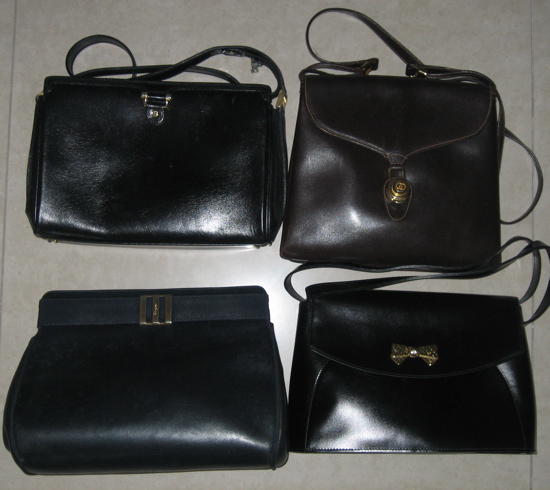 Top L-R

1.BALLY black leather shoulder bag with adjustable strap measures 10L x 7H x 2.5W, has five interior compartments (perfect for organizing your stuff). Leather has the usual scratches and hardware has slight tarnish. Also can be carried as a sling. Comes with dustbag. PRICE: Php 2,200.

2.GUCCI chocolate leather bag with signature GG logo on pushlock. This VINTAGE bag measures 9.5L x 9H, and has two interior compartments that open to 5.5W;. Interior lining not sticky but has spots (you can have the bag relined). Authenticated at Gucci Hong Kong (Pacific Place) last year. If you are petite, you can sling this bag across your body. Strap measures 19"; from top. PRICE: Php 2,500.

Bottom L-R
3.FERRAGAMO navy shoulder bag with grosgrain signature buckle that also works as a clutch. This style was popularized by the late Princess Diana of Wales, as she used this bag for her working public appearances. Bag measures 10.5L x 7H x 4W. Has scratches on leather. Interior leather not sticky, still ok. PRICE: Php 2,200.

4.NINA RICCI black leather shoulder bag has straps that can be double-looped for that baguette- look. Measures 11L x 7H x 3W, the bag is relatively new, with very minimal scratches on leather. The ribbon signature in gold hardware is shiny and isn'tt tarnished. Interior in excellent condition. Comes with dustbag. PRICE: Php 2,500.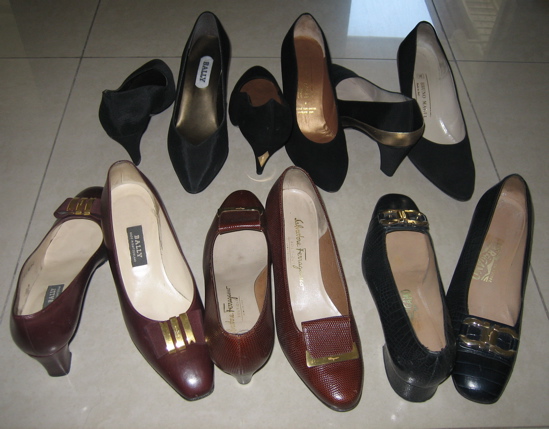 TOP Left to Right

1. BALLY: SOLD

2. BRUNO MAGLI: Size 7.5, insoles measure 9.75" toe to heel. Made in Italy. Price: Php 900.

3. BRUNO MAGLI: Size 7.5, insoles measure 9.75" toe to heel. Made in Italy. Price: Php 900.

BOTTOM Left to Right

4-6. ALL SOLD